User Manual
FAQ
Contact
Introduction
Installation
Configuration
Scripts
Advanced Topics

Giganews special deals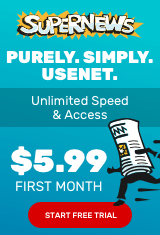 Supernews special deals
Only for Windows
Portable means that you can:
Have an installation on an external medium (USB-harddisk)
You can plug in to any PC as is.
You don't need to install anything on the PC
You don't need to change the setup
All you need to do is:
Create a folder for SABnzbd to put its data
Make sure that all directories are relative paths starting from the directory where the INI file is
Tell SABnzbd where the INI file is, using the -f parameter
Use 127.0.0.1 or 0.0.0.0 as the web server address
Choose a port number that is free on all systems (8080 or 8088 is good choice)
Notes:
The easiest way is to use the "portable.cmd" script1.
portable.cmd -s 127.0.0.1:8080

You replace 8080 with a correct port number for the particular PC.
The -s parameter is just a one time requirement.
You may encounter software firewalls which you will have to teach about SABnzbd.
SABnzbd has two types of Internet access: port 119 or 443 for communicating with the Usenet server and port 8080 (or whatever else you choose) to communicate with the web browser.
Choose the "Default" user interface, since only that one is compatible with all web browsers.